Reviewed by Rama Gaind.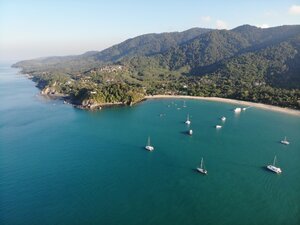 Koh Lanta ― one of Thailand's most beautiful islands, located just off the coast of Krabi Province ― is where you'll be certain to find an uncrowded beach.
There's a real sense of escapism. Get set to discover the island district's best kept secret, nestled within the solitude and serenity of surrounding mountains. Lying just south of the Andaman coast's prime attractions, it has maintained its laid-back atmosphere, all the while developing slowly to include some fine resorts.
One of them is Pimalai Resort & Spa. This is where the 900-metre beachfront and 100 acres of paradise will rekindle your love for nature amid lush tropical forests and the endless Andaman waters.
Koh Lanta is situated in the South Andaman Sea and offers some of the best dive sites in Thailand that are suitable for both beginners and advanced divers. The resort has announced the latest year-round Koh Lanta diving adventures. Why not have an adventure (when you stay at Pimalai) with Lanta Diver, a PADI Career Development Centre, and have the time of your life.
Vacationers at the resort can dive at Koh Haa, Hin Daeng/Hin Muang, Koh Rok, the Bida islands, Phi Phi islands, Kled Gaew wreck and Koh Maa shipwreck park.
Koh Haa is Lanta Diver's most popular diving and snorkelling site. It is famous for The Cathedral where divers can explore the mysterious two large caverns formed at one of the islands. There are also stunning coral walls, a beautiful lagoon for easy diving, schooling fish, lots of macro and unusual aquatic life. Highlights also include
The Lagoon and The Chimney. There are also underwater pinnacles, drop-offs, walls, boulders and other caverns, inter-connected chambers and swim-throughs to explore.
The lagoon at Koh Haa also provides a protected area for snorkelling and is suitable for all levels and ages. Koh Bida Nok/Nai and Hin Bida are in the Phi Phi National Marine Park which is easily accessible from Koh Lanta.
Various sites
As a day trip, Hin Daeng/Hin Muang is probably the most famous and spectacular site accessible from Koh Lanta. These giant pinnacles located in the middle of the Andaman Sea, offer dramatic underwater scenery, with steep walls covered in soft red and purple corals, dropping right down to 60 metres as Giant Manta Rays and Whale Sharks glide past. This site is only recommended for advanced divers who have dived recently, given the area's topography and conditions.
The Koh Rok islands feature soft white sandy beaches and lush green trees combined with crystal clear waters, with dive sites suitable for all diver levels. The marine life is various with schools of snapper, moray eels, powder blue surgeon fish, lots of clownfish (Nemo) and turtles.
The Koh Maa shipwreck park is designed to promote conservation and environmental awareness and encourage existing ecosystems. Explore these mysterious vessels and observe how nature begins to engulf everything in its path. See baby corals and schools of fish establish themselves where there once was nothing. Nearby there is an existing reef that in time will spawn and grow over these sunken treasures. Some nudibranchs have already found their new home here. This adventure is for all level of divers.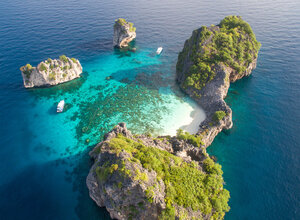 Koh Haa and Koh Bida are recommended for open water divers.
The Bida Islands are located in the Phi Phi National Marine Park which is also easily accessible from Koh Lanta. Beneath the surface the islands form steep coral walls, rocky outcrops and swim-throughs and are covered in colourful soft coral and giant Gorgonian fans. These islands offer an exciting diving experience with schools of pelagic fish surrounding the reefs, which are often seen hunting the smaller glassfish. The dive site is also famous for spotting sharks including black tips and leopard sharks.
Known for stunning clear water, gorgeous beaches, great diving, a historical town and waterfalls, Koh Lanta remains an amazing destination for families, couples, backpackers and scuba divers.
If you're looking for a Thai island with chill vibe, wonderful beaches and great Thai food, you won't regret going to Koh Lanta. Rates start at THB6652 (approximately AUD270) per night including daily breakfast and a round trip Krabi Airport transfer for two people.
DETAILS BOX

Pimalai Resort & Spa, Koh Lanta, Thailand
www.pimalai.com