Jurassic World Camp Cretaceous told a completely new story in the Jurassic World franchise, with the show concluding its fifth and final season in July 2022. Despite this, Camp Cretaceous is not quite finished, as Jurassic World Camp Cretaceous: Hidden Adventure has just arrived on Netflix. Unlike the show itself, Hidden Adventure is an interactive experience not unlike a video game.
In Hidden Adventure, the Nublar Six are back for another adventure on the island full of dinosaurs. However, this time, the viewer is a direct participant taking the characters through their navigation of the island. For the audience of Camp Cretaceous, Hidden Adventure places them right in the shoes of the young protagonists of the show.
RELATED: Why Jurassic World Dominion Never Mentions Camp Cretaceous
We speak to Camp Cretaceous showrunner Scott Kreamer about the making of Jurassic World Camp Cretaceous: Hidden Adventure, what fans of the show can expect from the interactive epilogue to it, and some of the challenges in producing Hidden Adventure while wrapping up the final season of Camp Cretaceous.
Screen Rant: Jurassic World: Camp Cretaceous released its final season this summer. What was the genesis of the Hidden Adventure continuation?
Scott Kreamer: I'll tell you, the genesis of the idea was Netflix says 'Hey, we want you to do an interactive.' And we said, 'Well, we're trying to land this series', but they really wanted to do the interactive. So, that was the genesis of the idea, and we kind of put it in at the end of our production schedule, and the tricky thing really is we were writing this while writing the series finale. So, it was not an easy time, but I'm really happy with how both turned out.
Hidden Adventure was done basically simultaneously with the final season of Camp Cretaceous?
Scott Kreamer: Yeah, the writing overlapped, and then we have our three board teams and our three episodic directors, and as they were rolling off episodes of the series, they were rolling right onto the interactive experience. It took all our writers and all our board teams and all our directors and everyone to pull this thing off. Just to raise the level of difficulty on that, certain assets weren't going to be ready till, say the third team rolled on, so now we can't really just divide it up by axe. It was a bit of a tight wire act, even more so than the rest of the show has been, but thankfully, things turned out pretty well, I think.
With the Camp Cretaceous follow-up being an interactive "choose your own adventure" that's almost like a video game. How was the process of creating the interactive experience different from the main show, especially since you're making them at the same time?
Scott Kreamer: Yeah, it was tricky, because it's almost like a video game, but you don't want to go too far that way, because you are still telling this narrative story, which actually a lot of video games do an amazing job with. Luckily, we had some really smart help with a really great writer and producer named Julius Harper, who used to be in the interactive department at Netflix.

We were able to hire him to kind of help us as well as write on the show and to avoid a lot of pitfalls, because it's a steep learning curve. There's different software, and there's just a lot to figure out, and you kind of have to go figure it out exactly, because it's basically enough content for three episodes, but you can't come in short, and you can't come in too long. So, as we started just sort of coming up with ideas as a writing staff, I think our first stab at it would've been six episodes worth, so you have to pare it back, but you still want to tell an enjoyable story that's as exciting as possible when you put the viewer into the shoes of our camp family.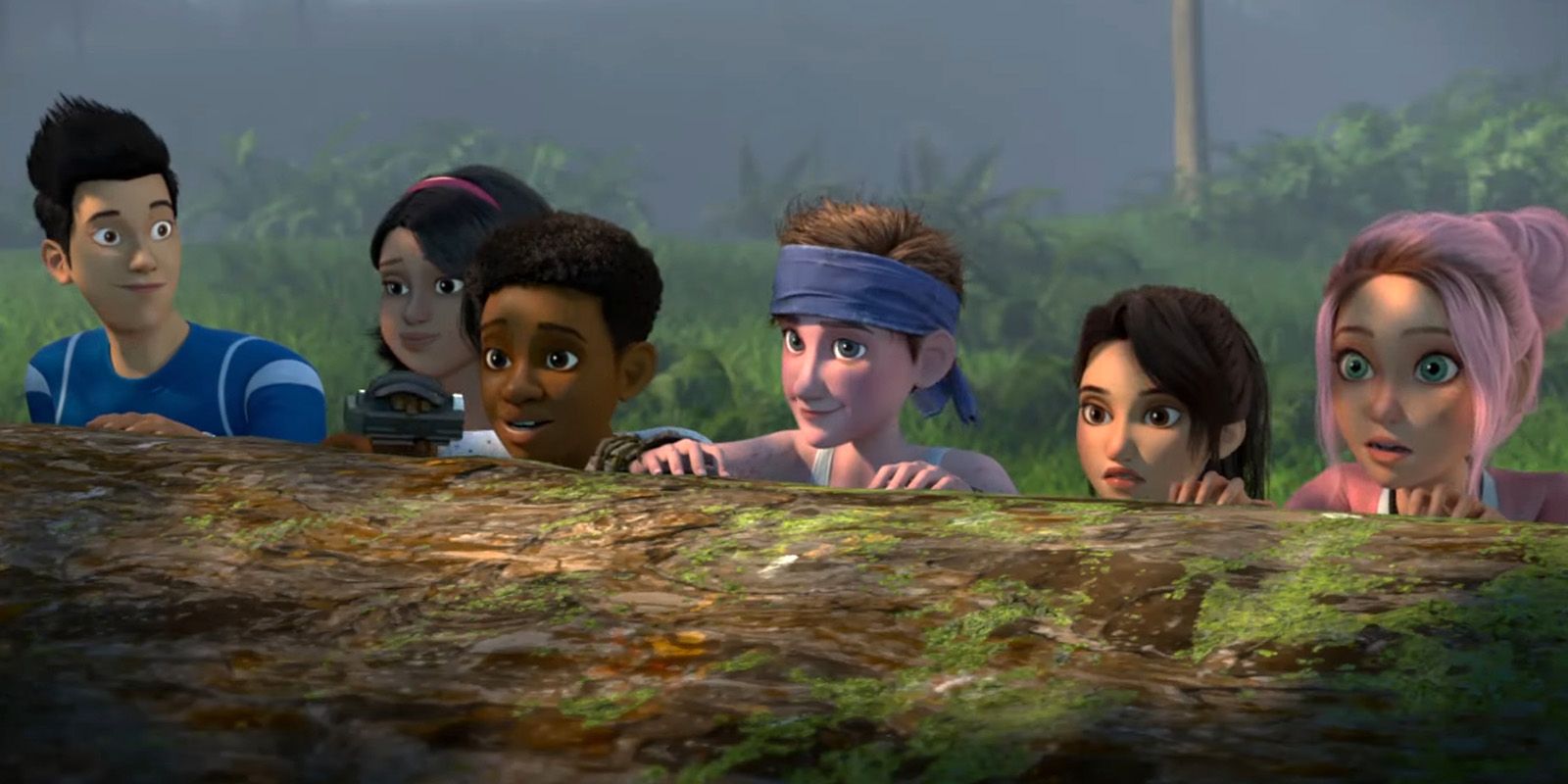 Speaking of that, the cast is also voicing each of their characters for Hidden Adventure. With the fact that they were doing both basically at the same time, how did that impact the cast?
Scott Kreamer: Yeah, it didn't change it, it was basically like tacking three episodes on to the end, and we were doing this during the pandemic, of course. So, you now have people recording in their basements and hotel rooms in Toronto and wherever you can. So, that sort of just extended our schedule a bit. But it wasn't like we were having to double book them or anything like that.
With Netflix wanting to follow up the end of Camp Cretaceous with something like Hidden Adventure, is there any kind of idea or desire with Netflix to transition to that, or is it meant to be more of a one-off?
Scott Kreamer: Yeah, I mean, it was a one-off, as far as I know. There had been talk about doing it from early days, and to be honest, I kept trying to kind of saying 'We have a story we really want to tell here'. But when it became clear they really wanted to do one, we just did our best to deliver something that people would enjoy.
Going into the video game similarities of the Camp Cretaceous interactive experience, aside from coordinating it with the main show, from your vantage point as the showrunner, what was the biggest difference or the biggest challenge in doing the interactive story of Hidden Adventure versus the main show?
Scott Kreamer: Well, you know, when you're telling a regular story with a typical structure, you can kind of build in the dynamics of it. You have more control of 'Here's where I want my characters to start and here's where I want my characters to end'. With an interactive, we can go this way or that way, and depending on all of the little decisions you make along the way, your character is going to be happy or maybe disappointed. It's one of those things that hopefully will be enjoyable to replay and try to get a different outcome. But, outside of it being just a lot of story to tell, again, you're giving over some of that control of the story you're telling to the viewer.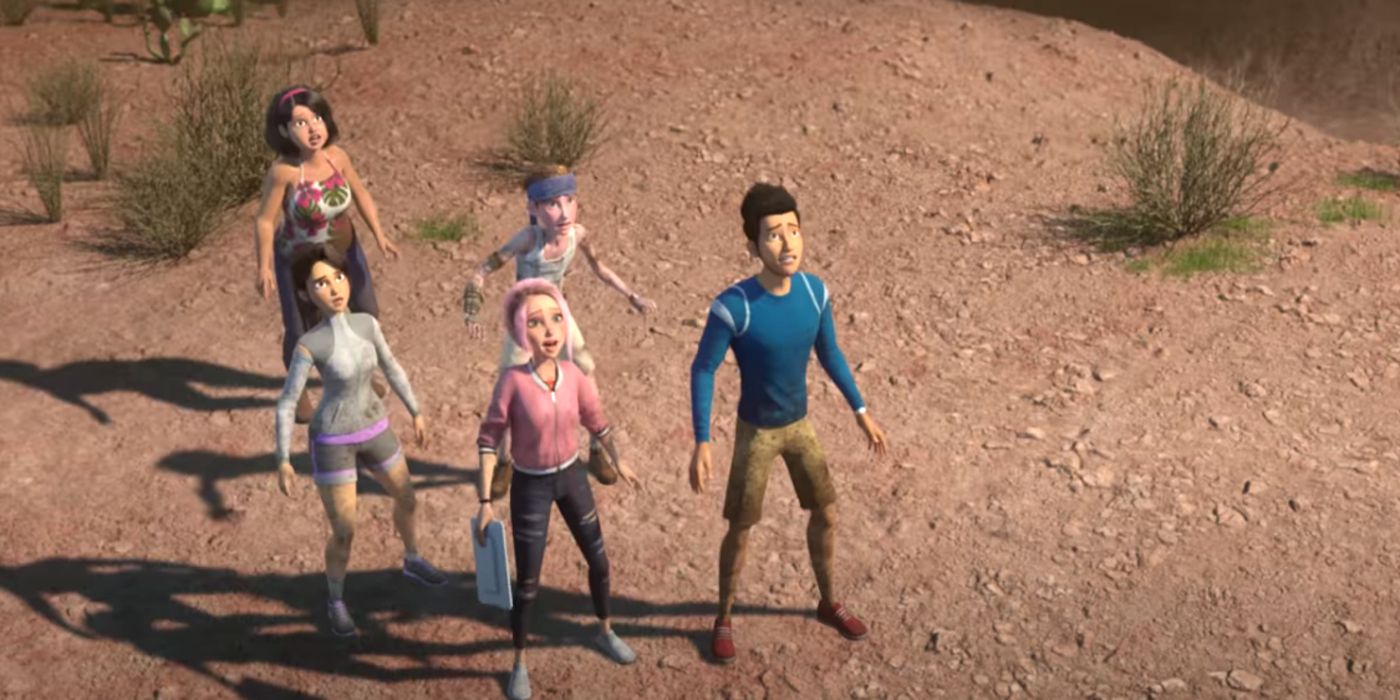 And also, because you're dealing with a narrative where it can go this way or that way, that probably adds on a lot in terms of writing different scenarios. Does that elongate the process of writing the conception of Hidden Adventure?
Scott Kreamer: Oh yeah, yeah. Like I said, this was our entire writing staff, plus Julius and everyone. This wasn't one writer going off and writing a story or three. This really took the whole team, and as always, they answered the call.
What do you think are some of the standout elements or proudest accomplishments of Hidden Adventure to you?
Scott Kreamer: Well, when you finally make your way to the hidden adventure, there's a couple of sets that our team put together that are just gorgeous. And also, after telling the story of the Nublar Six for so long, to be able to go back to Nublar, back to Jurassic World and see our earlier character models and really kind of getting back into the simpler time when it was just 'We have to survive the dinosaurs', it was a fun and kind of a fitting way to bid farewell to this series.
Now having done something like Hidden Adventure as the capstone to Camp Cretaceous, is that something you might want to try to on other shows or do an interactive experience with other projects, or do you feel like this is the perfect one-off for that?
Scott Kreamer: Well, I think I wouldn't want to do another one for Camp Cretaceous, and I think it would be a really fun challenge to do if we weren't also producing a television show alongside it. If it was just focused on 'Okay, we're going to do this interactive story', I think that would be a fun challenge, but without the added level of difficulty of ending a five-season television show simultaneously.
NEXT: Jurassic World Finally Has A Proper T-Rex vs Spinosaurus Rematch
Jurassic World Camp Cretaceous Hidden Adventure is now available on Netflix.